General Information
Orders
Elias Woodwork accepts orders either in metric to the nearest millimeter or in inches to the nearest 1/16" . Whenever you are ordering or speaking with a Customer Service Specialist, please refer to cabinet doors WIDTH by HEIGHT.

From a single vanity to a condominium project we will accept orders from one door to several thousands. Although our manufacturing system has been engineered to be able to produce 1 door almost as efficiently as 1000 there will still always be some economies of scale that may influence pricing on large orders. For this reason we may be able to work out lower prices for large projects when you need that extra edge to get the job. This project pricing is established on a job by job basis and is completely separate from your standard discount.
Miter Joint Construction Options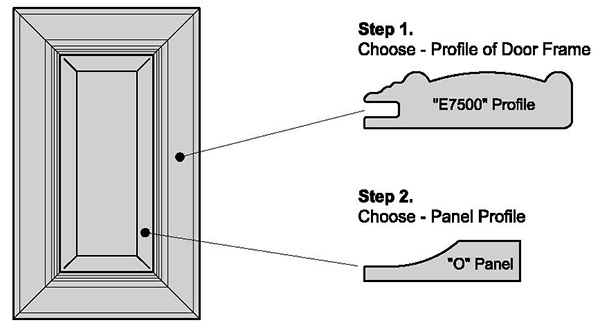 Miter Door Code Explanation
E7500 O - 1 - - - L3 3 76.2 76.2 M [- - - -] -
E7500:
Miter Frame Profile
O:
Panel / Frame / Mullion Option
-:
Outside Edge Profile (Edge can only be changed on frame profiles which come standard with a square edge)
1:
Number of Panels
-:
Applied Molding Option
-:
Decorative Pegs Option
-:
Finger Pull Option
L3:
Hinge Boring Option
3:
Hole Edge Inset (mm)
76.2:
Hole Center To Top Offset (mm)
76.2:
Hole Center To Bottom Offset (mm)
M:
Miter Joint Construction Option
[- - -]:
Finishing Options (Finish Color / Glaze Color / Lacquer Type)
-:
Treatment
Multiple Panels
Elias Woodwork manufactures miter doors with multiple panels utilizing center stiles and rails. Any multiple panel miter door is not a standard production item, therefore requires additional lead time and a quoted price. Please contact your Customer Service Representative to receive further information.

Tolerance
Elias Woodwork warrants that it's wood cabinet doors have a size tolerance of +/- 1mm. Warping is always a factor with wood cabinet doors. Elias Woodwork warrants that any door or drawer front under 24"x48"will have a warpage allowance of 1/8". Doors or drawer fronts between the sizes of 24"x48" and 24"x72" will have a warpage allowance of ¼". Any doors or drawer fronts wider than 24" or higher than 72" will not be warranted for warpage.Door

Note: This applies to doors and drawer fronts with one vertical grain panel.
Quality Standards for Every Miter Door
Every door is:
orbital and/or hand sanded in every panel profile.
thickness sanded on back side with 100, 150 and 180 grit sand paper.
orbital and/or hand sanded on face side.
individually inspected for quality and ensure proper corners and smoothness.
Minimum Size Calculations for Miter Doors
For Solid Panel Miter Doors & Drawer Fronts

(Stile / Rail Width x 2) + (Panel Profile Reveal x 2) + 1/2"
For Plywood Panel Miter Doors & Drawer Fronts

(Stile / Rail Width x 2) + 1"