NEW AOS Elite Manufacturing Facility!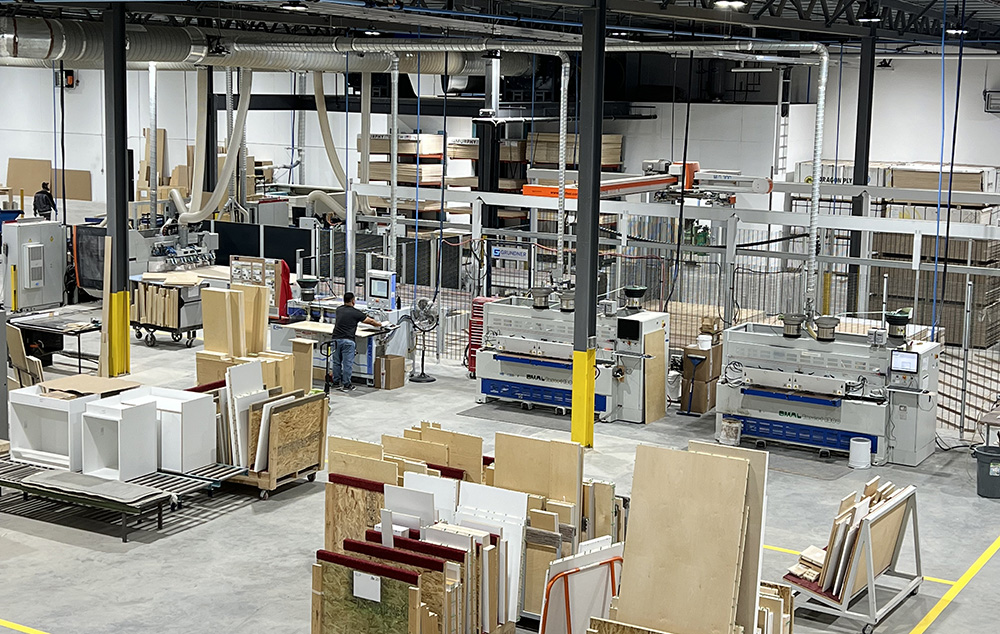 November 8, 2023
We are thrilled to announce a groundbreaking addition to our Elias family! The opening of a 50,000 sq/ft state-of-the-art
AOS Elite
Cabinet Manufacturing Facility that is now up and running. Located in Winkler, MB next to our current long standing facility, this marks a significant milestone in our journey of growth, innovation, and excellence. We believe this new facility will not only create exciting opportunities for us but also contribute significantly to our continued success.


Why AOS Elite (assemble on site) custom cabinets?
The idea of establishing an AOS Elite Cabinetry manufacturing facility stems from our dedication to providing exceptional quality products and expanding our market presence. AOS Elite Cabinets, also known as flat-pack cabinets or knock down cabinets, have gained immense popularity due to their versatility, cost-effectiveness, and ease of transportation. By expanding on this new product line to our offerings, we aim to meet the diverse needs of our customers while maintaining our commitment to sustainability.

Key Highlights of the New Facility:
Cutting-Edge Technology: Our new facility is equipped with the latest machinery and technology, ensuring precision and efficiency in every cabinet we manufacture. This investment in technology reflects our commitment to delivering the best products to our valued customers.
Sustainability Focus: We are fully aware of the environmental impact of our industry. The facility has been designed with sustainability in mind, using energy-efficient systems and responsible sourcing practices to reduce our carbon footprint.
Local Job Opportunities: The facility is not only about enhancing our product line but also about creating employment opportunities for local communities. We are excited to contribute to the growth and development of the regions in which we operate.
Streamlined Logistics: Knock Down Cabinets are known for their space-saving and easy assembly qualities. This streamlines the shipping process, reducing transportation costs and making our products more accessible to a wider audience.
| | |
| --- | --- |
| | |
Benefits for Elias Woodwork Employees:
The employees here at Elias Woodwork are the backbone of our success. The opening of the new facility brings a host of benefits to our current and future team, including career growth, job stability, training & development, pride and satisfaction in our ability to adapt, grow and innovate.
What's Next:
The AOS Cabinets Manufacturing Facility has just started making cabinets, with production to be ramping up in upcoming months that will result in new employment opportunities and increased capacity. We will keep you updated on the progress, and we invite you to keep your eyes open for future newsletters and social media communications.
As we embark on this exciting journey, we want to express our gratitude to you for your unwavering commitment to Elias Woodwork. Together, we are poised for success, and the future looks incredibly promising.